AM-100 Induction Sealer w/ 50mm-120mm Sealing Head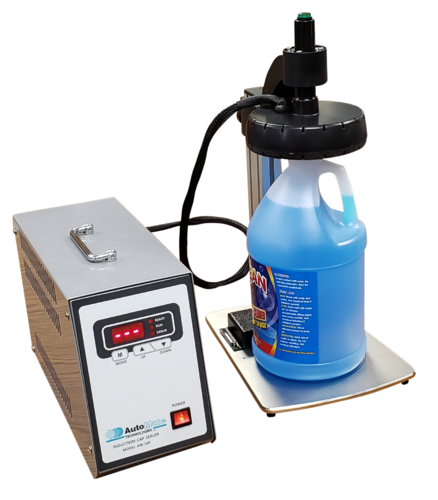 AUTO-MATE® MODEL AM-100 HANDS FREE "SMART SEAL®" (WITH 1,000 WATT UNITS) SEMI-AUTOMATIC INDUCTION FOIL "WATERLESS CAP SEALER®":
The Model AM-100 comes complete with the following standard features:
Hand Sealer Features:
· Compact size for easy portability
· Main power switch, mode and up/down controls simplify use and operation
· All heavy duty steel construction cabinetry (not plastic) for electronics
· Easy to use soft touch key pad with display screen shows:
* Power level displayed in percentage of full scale
* Sealing time in 0.1 second increments
· Dual user friendly operator system as standard
A. Hand held sealing head with thumb switch activation
B. Table mount support system (hands-free) for containers up to 12" tall utilizing bottle photo-eye for self-starting
· LED display of individual, fully adjustable settings for both power level and sealing time
· Sealer operates on 125V, 1 Phase, 50/60 HZ standard (factory set)
· One specially designed standard proprietary sealing head accommodates 50mm to 120mm standard flat caps.
· Visual and audible signals tell when bottle is done sealing. Time counts down in 0.1 second increments on digital display
· Fully adjustable stand with tool-less sealing head height adjustment for easy and accurate set-up and repeatability. Eliminates the need to hold the sealing head. Sealing head is automatically supported parallel to the cap to provide the optimum seal.
· Automatic photoelectric switch under sealing head eliminates the need for finger switches and foot pedals to start sealing cycle
· Adjustable "V" stop centering guide for positive bottle placement under sealing head with laser etched bottle placement target area
· Advanced solid state electronic circuitry delivers high efficiency sealing power and long term reliability. Hands-free design ensures accurate fast, reliable sealing and eliminates operator fatigue