AU-6-E Unscrambler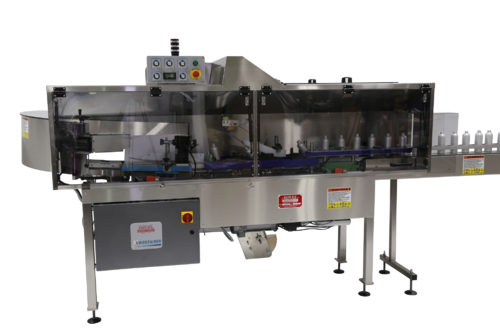 KAPS-ALL Automatic Bottle Unscramblers effectively automate packaging production lines affording increased efficiency, savings and productivity. Savings are realized through effective use of personnel and associated costs over manual/semi-automatic unscrambler operations. KAPS-ALL unscramblers are designed for quick changeovers (accomplished in a few minutes) and durability resulting in less downtime. All unscramblers can be upgraded with the ability to change production lines without buying new machinery or training new personnel.
1. Low profile 36-inch diameter stainless steel prefeeder (complete with one inner disc) 2. Exclusive patented design eliminating numerous change parts 3. Fully adjustable orienting mechanism to handle a wide range of containers 4. Minimal changeover parts needed for a wide range of plastic round, square, rectangular & oval. 5. Heavy duty welded construction frame to hold all three principal elements of AU-6 6. Electronic variable speed controls for all orienting functions 7. Non-marring contact parts for Pre-Feeder, orienting mechanism and discharge exit 8. Can be used with existing conveyor or with a stainless steel Feed Systems Conveyor 9. Automatic bottle counter 10. Self contained electric control panel 11. Stainless steel and Polycarbonate covers and guards throughout, allowing wide access for easy adjustments 12. Calibrated settings allow for ease and repeatability of changeovers 13. Computer designed for a quiet, smooth and dependable operation 14. Left to right conveyor discharge 15. Complete with 15 cubic foot stainless steel Bottle Supply Hopper and 12" wide belt Elevator 16. Stainless steel leveling screws with floor pads 17. Two full year guarantee. 18. Stainless steel access/cleanout door on supply hoppers, with no-tools required to open 19. Interlocking safety switches on sliding front doors so that machine will not run unless doors are closed
Ideal For:
Round, Square, Oval, Triangular and Rectangular Bottles.
Plastic, Corrugated and Tin Bottles
6" diameter and 12" tall maximum bottle size
Speeds up to 300 bottles/minute
Air-Electrical:
110V 1Ph 50/60Hz (NEMA 12)
No air required.
Size:
Base Machine Dimension:
Crated Dimension: 10' L x 6' W x 6' 8" H (50 Cubic Hopper Makes Width 6'5")