ECF-G ELECTRONICALLY CONTROLLED, TIMED VOLUMETRIC FILLER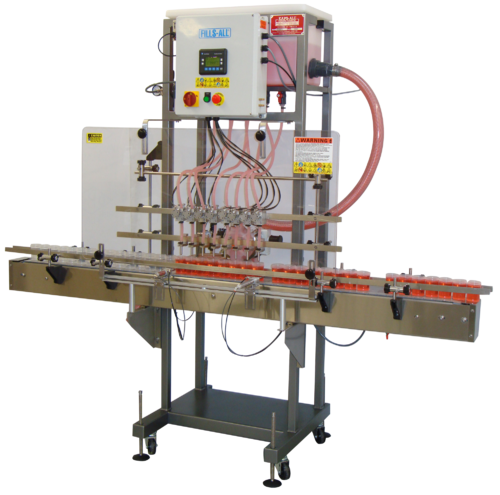 Description:
Model ECF-G
The Fills-All Model ECF-G portable single head gear pump filler comes complete with an all stainless steel enclosure, product supply gear pump and one nozzle with a fully adjustable nozzle rack and electronic controls.
Features:
The Fills-All Electronically Controlled Flow Automatic Liquid Filler Model "ECF-G" comes equipped with the following:
Four nozzles (expandable to 8 or more)
A filling system controlled entirely by a programmed electronic microprocessor ensuring repeatable and fast changeovers
No bottle-no fill electronic controls coupled directly to the microprocessor
Bottle/Cycle counter displayed on an LED readout of access module to keep track of bottles being filled
20 gallon high density polyethylene supply tank
Nozzles and valves are available in several styles and materials. Diaphragm and pinch valve types for easy cleaning, sanitary filling and accurate dispensing
Stainless steel nozzle rack fully adjustable in height to accommodated 1/4" tall container to 20" tall container. The nozzles are easily adjustable along a track to adjust to any bottle opening
Portable on casters for complete mobility comes complete with elevating screws and floor pads once the filler is placed in line
The electronic access modular is panel mounted allowing for adjustment so fill volume to be made on an LED digital display without the need to open the electrical box
Nema 4 electrical enclosure protects all controls from wetted areas
Two full year parts guarantee (excluding tubings an seals)
Frame is stainless steel pigmented USDA epoxy coated for both cleanliness and easy maintenance
All parts modularized for quick plug in replacement
Cleans in less than five (5) minutes. No disassembly required
Requires only four square feet of floor space
Special models available for special filling applications. Please inquire for assistance.
Ideal For:
All free flowing corrosive products.
Air-Electrical:
-120V, 1 Phase, 60 Cycle
- Air: 1 cu/ft per min. 90psi.
Size:
- Base Crated Weight: 650 lbs
- Crated Dimension: 8'x4'x7.3' W