AC-35 Compact Cleaner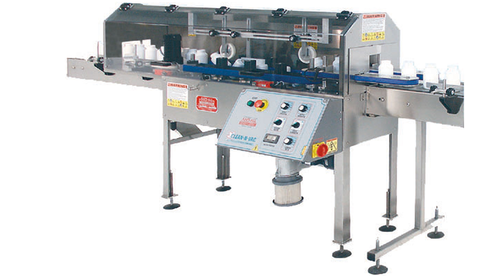 Model: AC-35
CLEAN-N-VAC® Automatic Container Cleaners
CLEAN-N-VAC Model AC-35 automatically removes dust, dirt, carton lint and other foreign matter. Using a combination of high pressure ionized air and highly efficient vacuuming.
Max Container Height: 7" Max Container Diameter 4"
Features:
FULLY AUTOMATIC "CLEAN-N-VAC" BOTTLE INVERTER AND CLEANER MODEL AC-35 COMPLETE WITH THE FOLLOWING FEATURES, AS PER BULLETIN # 0206:
Automatic bottle cleaner, which inverts the containers, blasts them with ionized air and vacuums them over an effective length of up to 18 inches.
Handles containers up to 7" tall and 4" diameter for larger container ask us about our Model AC-65 Bottle Cleaner Inverter
Exclusive patent pending design eliminating numerous change parts.
Fully adjustable inverting mechanism to handle a wide range of containers.
Minimal changeover parts needed for a wide range of plastic, glass metal, corrugated, round, square, rectangular and oval containers etc.
Heavy duty welded stainless steel construction frame.
Electronic variable speed controls for all turning and cleaning functions.
Non marring contact parts throughout.
Can be used with existing conveyor or with a stainless steel Conveys-All Conveyor.
Self contained electronic controls.
Polycarbonate safety covers and stainless steel guards throughout allowing wide access for easy adjustments.
Hand wheels and calibrated settings allow for ease and repeatability of changeovers.
Computer designed for a quite, smooth, dependable operation.
Complete with 44" intake DC variable speed conveyor and metering wheel.
Left to right conveyor discharge is standard right to left is available.
Interlocking safety switches on front hinged guard so that the machine will not run unless the door is fully closed.
Low profile design for increased safety, no need for ladders or step stools.
Specifications:
Max Container Height: 7"
Max Container Diameter 4"
Ideal For:
•Ideal for highly efficient removal of foreign matter from smaller packaging on low and medium and high speed lines
Air-Electrical:
110v AC, 1Phase, 50/60 hertz
Or
220v AC, 1 phase, 50/60 hertz
10 CFM at 80 PSI
Size:
- Crated Machine Weight: 950lbs
- Shipping Measurements: Crated 8'x4'x 7'3"