AM-250 Automatic Induction Sealer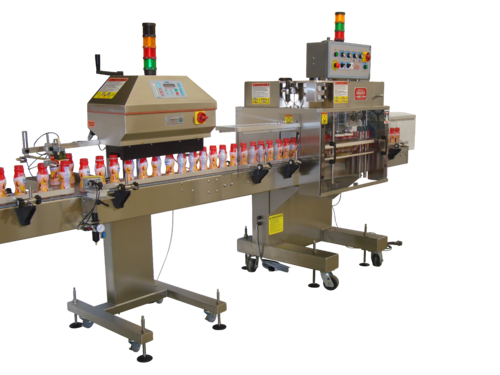 Automatic Induction Sealing Machine
Patented design energy efficient foil sealing systems come complete and ready to use pre-assembled.

AutoMate AM-250 is the industry standard for Induction Sealing. This is the original Waterless Cap Sealer. The Model AM-250 is the right choice for small to high volume production. The ultra-compact machine delivers 2,500 Watts of power at the sealing head!
State of the art patented surface mount electronic system eliminates the need for water-cooling, radiators, pumps, etc.
Cap sizes up to 70mm diameter (sealing heads available for up to 120mm and specialty caps).
Patented design energy efficient foil sealing systems come complete and ready to use pre-assembled. Protected by over 15 patents.
Screens in English, Spanish and French.
Sealed, gasketed electronics provides protection for demanding environments.
LED "Heart-Beat" monitoring for simplified servicing. No moving parts.
Load sensitive operator assist "LED BAR GRAPH", for easy set-up and operating status (PATENTED).
Consecutive and excessive fault detection.
Built in power save mode minimizes energy consumption.
Efficient advanced circuitry for increased power and minimizes waste heat production (Not air cooled like others on market).
Portable one piece welded frame with locking swivel castors and stainless steel leveling screws with floor pads.
Fast easy changeovers, height adjustment-accommodates 1" tall to 14" tall containers with a simple hand adjustment.
Standard digital bottle counter and rate meter (bottles per minute).
Mini-computer keeps track of basic statistics which include: A) Total bottles sealed B) Sealing power used C) Batch and lot Numbers D) Date E) Faults encountered F) Time G) Multi-Language Screens H) Conveyor speed I) User friendly menus and recipe storage J) And more.
Loss of current indicator. Internal circuitry provides monitoring of sealing head power. Automatically adjusts power as needed.
Interlocking stainless steel safety guard switches.
Easy to read two line digital full text display. All operator settings including LED indicator lights at your fingertips. Minimizes operator training.
Main power switch with OSHA lockout for servicing.
State of the art plug in electronic manifold for sensors to hook up with no wiring required.
IQ-OQ validation assistance available.
Model AM-250 (more than 2,500 watts of output power at the sealing head where it is used)
This foil sealer is ideal For:
• Ideal For: Small, Medium and Large output production and all industries
Air-Electrical:
205-240V, 1 Phase, 50-60 Hertz (approximately 18 amps maximum).
Size:
- Crated Induction Sealer Machine Weight: 250lbs
- Shipping Measurements Box on Skid 30" x 40" x 42.5"
Use your mouse to click and drag left or right.
Disclaimer: Machines shown in videos and photos may contain optional accessories.