EM-980 Torque Monitor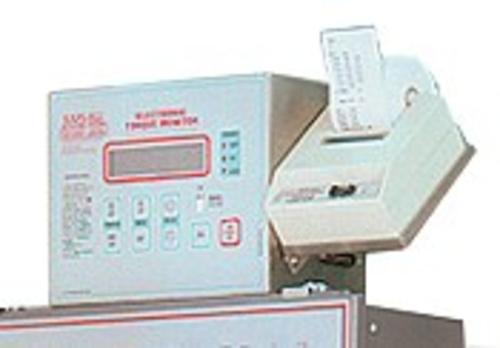 Description:
Model EM-980Automatic Machine Torque Monitor
The Inline Automatic torque monitor measures application torque to containers passing through a Kaps-All Capping Machine
Features:
THE MODEL "EM-980" IN-LINE TORQUE TESTER COMES EQUIPPED WITH THE FOLLOWING STANDARD FEATURES AT NO CHARGE:
Measures the final application torque of screw caps and closures as they are being applied onto their containers.
Portable and compact measures only 12 inches wide x 5 inches deep x 7-3/4 inches high.
Torque is read on LCD digital screen in 1/10 increments.
One piece stainless steel rugged enclosure suitable for mounting directly on top of Kaps-All Capper.
Lexan panel for easy to use and cleaning.
Display torque is held on screen for easy viewing until next test if performed.
Model EM-980 monitors an application torque range from 0-100 lb-in and displays directly in lb-in, n-m, etc.
Handles all styles, materials, types, shapes and sizes of closures, including child resistant and tamper evident.
Audible and visual (LED) indicators to assist in ease of operation.
Operates with 110V, 1 Phase, 60 HZ (50 HZ) or 220V, 1 Phase, 60 Hertz (50 Hertz).
Certificate of traceability to the National Bureau of standards available upon request.
Built in mini-computer with standard statistical analysis packaging allows operator to display test results on integral screen without the need for additional complete and printers (printer comes standard with this unit).
RS-232 communications link interfaces Torque tester to a computer or printer.
Standard statistical analysis, which can be displayed on two line integral screen, includes:
A. Lot number (set by operator) G. Standard deviation of all tests performed
B. Sample size tested H. Upper acceptable torque limit
C. Units selected I. Target torque limit desired
D. Minimum torque of all tests performed J. Lower acceptable torque limit
E. Maximum torque of all tests performed K. Number of bottles over range
F. Average torque of all tests performed L. Number of bottles under range
Three indicator lights provided for a rapid visual aid to read test results.
Unit constantly displays the bottles per minute (BPM) rate of the capper.
Ideal For:
• Quality Control
Air-Electrical:
-110v or 220V Electric (dependant on Machine to which it is attached).
- No Additional Air needed
Size:
- Base Machine Weight: 14lbs
- Measures only 10-1/2" wide x 10-3/4" deep x 7-3/4"high
- Takes NO Additional Conveyor Space