BP - PORTABLE AUTOMATIC BALL PLACER / INSERTER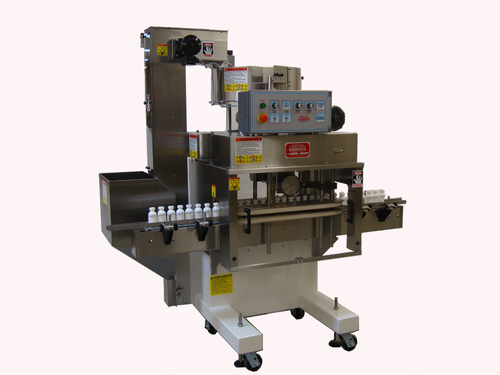 Description:
Model BP-Portable Automatic Ball Placer / Inserter
Speeds Up To 250 BPM*
Fully automatic Capping Machine requires only 32" of line space. Fully automatic exclusive patented design is ideal for roll-on deodorants, perfumes and similar applications. Portable on heavy-duty casters. No container—no ball dispenser. No timing screws or timing mechanisms required. Stainless steel rotary ball feeder. No change parts for most container styles and sizes. Straight line continuous motion. Available with several hopper styles. Comes with or without conveyor. Stainless steel guard enclosure with Lexan doors on front and back enclosing spindle and gripper section down to conveyor.
Features:
THE MODEL "BP" BALL PLACER / INSERTER COMES EQUIPPED WITH THE FOLLOWING STANDARD FEATURES AT NO CHARGE:
Two full-year guarantee on all parts.
Stainless steel 7'6" conveyor frame DC variable speed drive with a 4 1/2" wide Delrin chain with stainless steel pins, stainless steel drive and idler shafts with reinforced nylon conveyor rail posts, stainless steel conveyor end guards and non-corrosive drive and idler conveyor top chain sprocket.(left to right travel standard) Note: (Machine also can be purchased without conveyor).
Stainless steel enclosure with Lexan doors on front and back enclosing spindle and gripper section down to conveyor.
Patented design eliminates need for changeover parts for a wide range of standard caps, container shapes and sizes.
Calibrated settings allow for ease and repeatability of changeover.
Stainless steel guarding of upper drive section.
One pair of stainless steel bottle gripper belt housings complete with belts and drives.
All stainless steel bottle gripper belt and spindle shafting.
All electronically controlled variable speed drives for ease of adjustment.
All Nema 12 electrical components.
Portable on four swivel wheels for easy maneuvering.
Mounting facilities for using a second set of bottle gripper belts.
One piece solid welded construction cabinet epoxy painted for both cleanliness and easy maintenance.
Air filter-regulator for feeder.
Stainless steel machine leveling screws with floor pads.
No bottle/no ball release from chute.
All parts modularized for quick replacement. Little to no tools required.
All stainless steel bolts and fasteners throughout.
Interlocking safety switches on Lexan guarding enclosure so machine will not run unless doors are closed
Ideal For:
• Ideal for roll-on deodorants, perfumes and similar applications
Air-Electrical:
-110V 1Ph 50/60Hz (NEMA 12)
- Air 2 to 4 cubic ft/min
Size:
- Base Machine Dimension: 32"
- Crated Dimension: 8' L x 4' W x 6' 8" H
- Crated Weight 750lbs