BP - Portable Automatic Ball Placer / Inserter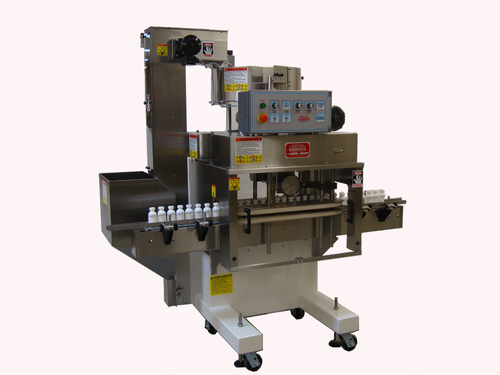 Introducing the Model BP - Portable Automatic Ball Placer / Inserter: Streamlining Your Packaging Process
At Kaps-All Packaging Systems, we bring you innovative solutions to optimize your packaging operations. We are excited to introduce the Model BP - Portable Automatic Ball Placer / Inserter, a revolutionary capping machine designed to enhance your production efficiency. Let's delve into the features and benefits of this exceptional machine.
A Compact Powerhouse: Space-Saving Design and Effortless Operation
The Model BP combines power and compactness, requiring just 32" of line space. This fully automatic capping machine is an exclusive patented design, catering to roll-on deodorants, perfumes, and similar applications. With its portable heavy-duty casters, you can easily maneuver it around your facility without hassle.
Efficiency Redefined: No Change Parts, No Timing Screws
Say goodbye to the complexities of changeover parts and timing screws. The Model BP boasts a stainless steel rotary ball feeder, eliminating the need for time-consuming adjustments. It operates on a straight-line continuous motion principle, ensuring seamless production flow. Adaptability is key, as most container styles and sizes can be accommodated without requiring any change parts.
Safety and Durability: Stainless Steel Guard Enclosure and Robust Construction
Safety is paramount in any manufacturing environment. The Model BP addresses this with a stainless steel guard enclosure, featuring Lexan doors at the front and back. This enclosure effectively protects the spindle and gripper section down to the conveyor, ensuring operator safety and preventing damage to critical components. The machine's solid welded construction, complemented by stainless steel bolts and fasteners throughout, guarantees long-lasting durability.
Unparalleled Standard Features: Making Production Effortless
The Model "BP" Ball Placer / Inserter comes equipped with an impressive array of standard features at no additional cost. Enjoy peace of mind with a two-year guarantee on all parts. The stainless steel 7'6" conveyor frame, driven by a DC variable speed drive, ensures precise control over conveyor speed. The conveyor system includes a 4 1/2" wide Delrin chain with stainless steel pins and reinforced nylon conveyor rail posts for reliable operation. Stainless steel conveyor end guards and non-corrosive drive and idler conveyor top chain sprocket are included, facilitating smooth and efficient material flow.
Simplifying Changeovers: Calibrated Settings and Modularized Parts
Efficiency is maximized through calibrated settings, enabling easy and repeatable changeovers. With the Model BP, you can quickly adapt to different caps, container shapes, and sizes. Thanks to the modularized design, replacement of parts is a breeze, requiring minimal tools. Little downtime means increased productivity for your packaging line.
Optimal Control: Electronically Controlled Variable Speed Drives
Precise adjustments are a key aspect of modern packaging machinery. The Model BP incorporates electronically controlled variable speed drives, allowing operators to fine-tune the machine's performance with ease. Experience enhanced flexibility and control over your production process.
Mobility and Flexibility: Portable Design and Additional Gripper Belts
The Model BP is designed for convenience and adaptability. Equipped with four swivel wheels, the machine is effortlessly portable, ensuring easy maneuvering within your facility. The mounting facilities provided allow you to incorporate a second set of bottle gripper belts, expanding your production capabilities and accommodating different packaging requirements.
Uncompromising Safety: Interlocking Safety Switches and Robust Enclosure
Safety is a top priority in any industrial setting. The Model BP prioritizes operator protection through interlocking safety switches on the Lexan guarding enclosure. The machine is engineered to prevent operation unless the doors are securely closed. With this feature, you can maintain a safe working environment without compromising productivity.
Unleashing Your Potential for Enhanced Performance
To further enhance your packaging operations, the Model "BP" Capper offers optional features to suit your specific needs. Opt for a stainless steel frame and cabinet, providing enhanced durability and a sleek aesthetic. Choose nickel or chrome plating on visible painted surfaces above the conveyor for added elegance. Motorized capper head height adjustment ensures effortless customization to accommodate different container heights. The Mini-L stainless steel low-profile hopper/elevator streamlines cap loading, while conveyor extensions allow seamless integration into longer production lines. Additionally, the availability of (IQ-OQ) complete installation and operational qualification protocol documentation ensures compliance with industry standards.
Ideal for Roll-On Deodorants, Perfumes, and More
The Model BP - Portable Automatic Ball Placer / Inserter is specifically designed for roll-on deodorants, perfumes, and similar applications. Its versatility and adaptability make it an ideal choice for manufacturers in the personal care industry seeking efficient and reliable packaging solutions.
Perfect Fit: Air-Electrical Specifications and Compact Size
The Model BP operates on 110V 1Ph 50/60Hz (NEMA 12) electrical power, ensuring compatibility with standard power supplies. Air requirement is minimal, ranging from 2 to 4 cubic ft/min, optimizing energy usage. With a base machine dimension of 32", the Model BP is designed to fit seamlessly into your production setup. When crated, it measures 8' L x 4' W x 6' 8" H and weighs 750 lbs, making it convenient for shipping and installation.
Experience the Difference: Invest in the Model BP - Portable Automatic Ball Placer / Inserter from Kaps-All Packaging Systems today. Unleash the potential of your packaging operations with enhanced efficiency, safety, and adaptability. Contact us now to discover how this remarkable machine can transform your production processes.
Features:
THE MODEL "BP" BALL PLACER / INSERTER COMES EQUIPPED WITH THE FOLLOWING STANDARD FEATURES AT NO CHARGE:
Two full-year guarantee on all parts.
Stainless steel 7'6" conveyor frame DC variable speed drive with a 4 1/2" wide Delrin chain with stainless steel pins, stainless steel drive and idler shafts with reinforced nylon conveyor rail posts, stainless steel conveyor end guards and non-corrosive drive and idler conveyor top chain sprocket.(left to right travel standard) Note: (Machine also can be purchased without conveyor).
Stainless steel enclosure with Lexan doors on front and back enclosing spindle and gripper section down to conveyor.
Patented design eliminates need for changeover parts for a wide range of standard caps, container shapes and sizes.
Calibrated settings allow for ease and repeatability of changeover.
Stainless steel guarding of upper drive section.
One pair of stainless steel bottle gripper belt housings complete with belts and drives.
All stainless steel bottle gripper belt and spindle shafting.
All electronically controlled variable speed drives for ease of adjustment.
All Nema 12 electrical components.
Portable on four swivel wheels for easy maneuvering.
Mounting facilities for using a second set of bottle gripper belts.
One piece solid welded construction cabinet epoxy painted for both cleanliness and easy maintenance.
Air filter-regulator for feeder.
Stainless steel machine leveling screws with floor pads.
No bottle/no ball release from chute.
All parts modularized for quick replacement. Little to no tools required.
All stainless steel bolts and fasteners throughout.
Interlocking safety switches on Lexan guarding enclosure so machine will not run unless doors are closed
Ideal For:
• Ideal for roll-on deodorants, perfumes and similar applications
Air-Electrical:
-110V 1Ph 50/60Hz (NEMA 12)
- Air 2 to 4 cubic ft/min
Size:
- Base Machine Dimension: 32"
- Crated Dimension: 8' L x 4' W x 6' 8" H
- Crated Weight 750lbs