AM-100 Benchtop Induction Sealer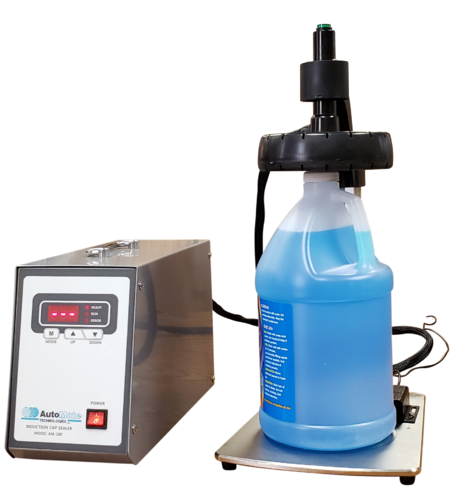 Introducing the AM-100 Semi-Automatic Benchtop Induction Sealing Machine - the perfect solution for your sealing needs! Compact in size and built for easy portability, this sealer boasts an all heavy-duty steel construction cabinetry, ensuring long-lasting durability. The soft touch key pad with display screen allows for easy operation, with power level displayed in percentage of full scale and sealing time in 0.1 second increments.
This dual user-friendly operator system allows for versatile sealing options, with a hand-held sealing head featuring thumb switch activation and a table mount support system for hands-free sealing of containers up to 12" tall, utilizing bottle photo-eye for self-starting. The LED display of individual, fully adjustable settings for both power level and sealing time ensures accurate and efficient sealing, with visual and audible signals telling you when the bottle is done sealing.
The AM-100 operates on 125V, 1 Phase, 50/60 HZ standard (factory set) and includes one specially designed standard proprietary sealing head accommodating up to 20mm to 65mm caps. An optional second larger sealing head for 50mm to 120mm standard flat caps is available for purchase. The fully adjustable stand with tool-less sealing head height adjustment allows for easy and accurate set-up and repeatability, eliminating the need to hold the sealing head and ensuring the sealing head is automatically supported parallel to the cap to provide the optimum seal.
The automatic photoelectric switch under the sealing head eliminates the need for finger switches and foot pedals to start the sealing cycle, while the adjustable "V" stop centering guide ensures positive bottle placement under the sealing head with a laser-etched bottle placement target area. The advanced solid-state electronic circuitry delivers high efficiency sealing power and long-term reliability, with a hands-free design ensuring accurate, fast, reliable sealing and eliminating operator fatigue.
With the AM-100 Benchtop Induction Sealer, you can trust that your sealing needs will be met with precision and efficiency, making it a must-have for any production line or packaging facility.
Model AM-100 - Semi-Automatic Induction Sealing Machine - Bench Top Induction Sealer
AutoMate AM-100 semi automatic induction sealer is the right choice for research and development and small volume runs. Producing 1000 Watts of power, the unit outputs a strong field in a very compact package. The AM-100 can accomodate caps from 5mm up to 100mm in diameter.
Hand Sealer Features:
Compact size for easy portability
Main power switch, mode and up/down controls simplify use and operation
All heavy duty steel construction cabinetry (not plastic) for electronics
Easy to use soft touch key pad with display screen shows
Power level displayed in percentage of full scale
Sealing time in 0.1 second increments
Dual user friendly operator system as standard
A. Hand held sealing head with thumb switch activation
B. Table mount support system (hands-free) for containers up to 12" tall utilizing bottle photo-eye for self-starting
LED display of individual, fully adjustable settings for both power level and sealing time
Sealer operates on 125V, 1 Phase, 50/60 HZ standard (factory set)
One specially designed standard proprietary sealing head accommodates up to 20mm to 65mm caps. An optional second larger sealing head for 50mm to 120mm standard flat caps is available
Visual and audible signals tell when bottle is done sealing. Time counts down in 0.1 second increments on digital display
Fully adjustable stand with tool-less sealing head height adjustment for easy and accurate set-up and repeatability. Eliminates the need to hold the sealing head. Sealing head is automatically supported parallel to the cap to provide the optimum seal (Optional) – See next page for Specials.
Automatic photoelectric switch under sealing head eliminates the need for finger switches and foot pedals to start sealing cycle
Adjustable "V" stop centering guide for positive bottle placement under sealing head with laser etched bottle placement target area
Advanced solid state electronic circuitry delivers high efficiency sealing power and long term reliability. Hands-free design ensures accurate fast, reliable sealing and eliminates operator fatigue
This foil sealer is ideal for:
AutoMate AM-100 semi-automatic induction sealer is the right choice for research and development and small volume runs
Air-Electrical:
115V, 1 Phase, 60 Hz. (standard)
Size:
Boxed Induction Sealer Machine Weight: <40lbs
Shipping Measurements 30"x24"x35"