FS-S Rotary Surge Table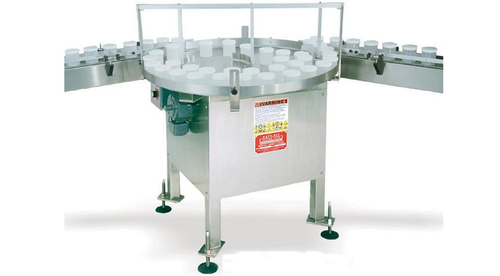 Model FS-S
36" or 48" Rotary Surge Table
Rotary Surge Tables provide container accumulation areas in the event of a backup or stoppage down line. After the backup is cleared the containers will be automatically returned to the production line.
Features:
Standard models 36 inch and 48-inch diameter, other sizes available to
your specifications.
Standard stainless steel tabletop.
Adjustable solid-state D.C. variable speed drive.
No changeover parts necessary for standard containers.
Hazardous location models available.
Stainless steel dumping table (standard on FS-U, optional on FS-A).
Clockwise and counter clockwise rotation.
33 inch to 37-inch height adjustment.
Actual demonstration in our plant with your products.
Stainless steel guide rails are standard.
Two full year guarantee.
Ideal For:
• Ideal for production lines with jams and backup of containers.
Air-Electrical:
-110V, 1 Phase, 60 Hz (Nema 12)
Size:
- Base Machine Weight: 450lbs
- Crated Shipping Dimension: 4'x4'x4'