FA-PG-E PRESSURE GRAVITY FILLER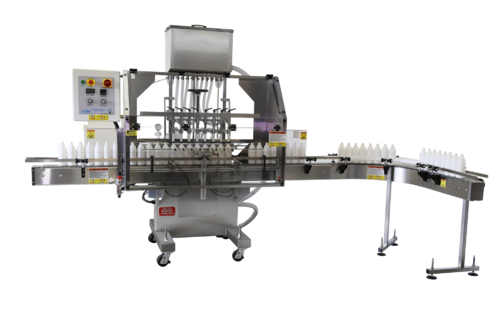 Description:
Model FA-PG

Expandable Fills-All Model FA-PG Pressure / Gravity Filler
-Fully Automatic, Microprocessor controlled, straight line liquid filling machine. Handles glass, plastic or metal containers. Handles all free flowing liquids (excellent with foaming thin products). Great for filling lines with multiple products.
Features:
The Model FA-PG Pressure/Gravity Filler comes equipped with the following standard features at no charge.
Two stainless steel gravity/pressure nozzles adjustable for varying fill heights (expandable to 18 nozzles)
Accommodates a bottle range of 1-3/4 inch high to 1 gallon containers.
Handles glass, plastic or metal containers.
Handles free flowing and most viscous liquids (excellent with foaming products).
Pressure gauge on manifold (sanitary design).
FDA approved tubing provided for all nozzles.
Standard one piece welded stainless steel construction cabinet.
Mounting facilities for optional conveyor or can overhang existing conveyor.
No bottle-no fill safety monitor.
Nema 4 (wash down) control panel.
Totally adjustable pneumatic, stainless steel cylinder bottle gating system.
Portable on four heavy duty swivel casters.
Master control wheel permitting height adjustment of all nozzles by a single turn assuring fast, repeatable settings between changeovers.
Left to right conveyor travel is standard. For right to left travel, please indicate on your purchase order.
Standard wiring-110V, 1 Phase, 60 Hz, utilizing approximately 1-3 CFM of air (more with diaphragm pumps).
Fill bottle counter to keep count of the number of bottle being filled in any given run.
Nozzle rack, height adjustable screw, to be stainless steel.
Stainless steel two-port pressure manifold sanitary design (for pressure mode).
20 gallon upper product supply tank (for gravity mode).
20 gallon product supply/overflow lower tank (gravity and pressure mode).
Two full year guarantee on all parts, less tubing, seals and gaskets (electronics are covered under manufacturers guarantee).
Air filter/regulator and air supply switch.
Microprocessor controlled for ease of use.
Requires minimal conveyor space 44 inch or 59 inch with control box.
No changeover parts for all similar neck finish containers.
All product contact parts to be stainless steel or plastic.
Ideal For:
All liquid filling applications. The diversity of having 2 machines in 1. Excellent with thin and slightly viscous foaming products.
The fillers offer accuracy, repeatability and ease of use with little or no changeover parts State-of-the-art components offer maximum performance, reliability and versatility to keep pace with your production requirements. FILLS-ALL fillers can operate separately or can be integrated into a complete packaging system.
Air-Electrical:
-110V, 1 Phase, 60 Cycle
- Air: 1-2 cu/ft per min. 90psi.
Size:
- Base Crated Weight: 850 lbs
- Crated Dimension: 8'x4'x7'4" W