BA6 Overcapper / Lidder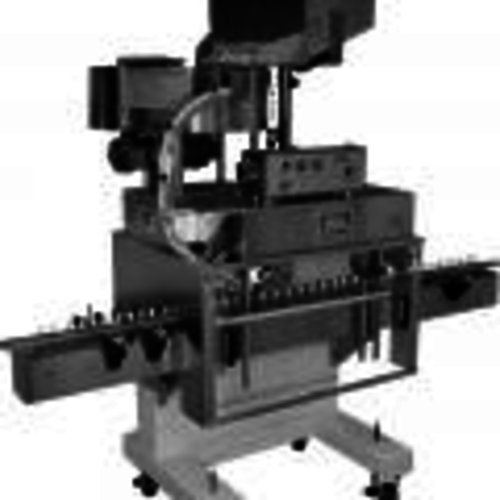 Description:
Model BA6-Portable Over-Capper / Lidder
Speeds Up To 200 BPM*
Fully automatic Over Capping / Lidding Machine requires only 38" of line space. Handles over caps, lids and fitments of all materials and styles from 13mm to 70mm. Portability allows versatility for automatic over capping / lidding; easily moved from one production line to another. Handles metal, glass, or plastic containers from low jars and vials up to 2-1/2 gallons. Comes with a standard rotary cap feeder.
BA6 Overcapper / Lidder: Efficient and Versatile Solution for Over Capping
Introducing the Model BA6 Portable Over-Capper / Lidder from Kaps-All Packaging Systems. This fully automatic machine brings seamless over capping and lidding capabilities to your production line, requiring just 38" of line space. Designed for versatility, it handles a wide range of over caps, lids, and fitments in various materials and styles, accommodating cap diameters from 13mm to 70mm. With its portability, the BA6 can easily be moved between different production lines, ensuring flexibility in your packaging processes. It is compatible with metal, glass, or plastic containers, ranging from small jars and vials to large 2-1/2 gallon containers.
Durability, Precision, and Efficiency
The BA6 Automatic Over-Capper / Lidder comes equipped with a comprehensive set of standard features to enhance your packaging operations. Our two-year guarantee on all parts ensures long-lasting durability and reliability. The stainless steel 7'6" conveyor frame, coupled with the patented reinforced nylon and stainless steel conveyor rail posts, provides a robust foundation for seamless operation. The stainless steel enclosure with Lexan doors enhances safety and protects the spindle and gripper section down to the conveyor.
Our patented design eliminates the need for changeover parts, accommodating a wide range of standard caps, container shapes, and sizes. Calibrated settings allow for effortless and repeatable changeovers, minimizing downtime and maximizing productivity. The machine also features stainless steel guarding of the upper drive section and stainless steel bottle gripper belt housings complete with belts and drives for secure and efficient operation.
User-Friendly and Maintenance-Focused Design
The BA6 is designed with user-friendliness and maintenance in mind. It features electronically controlled variable speed drives for easy adjustments, and all Nema 12 electrical components ensure safe and reliable operation. With its portable design and four swivel wheels, the machine can be easily maneuvered to suit your production line's changing needs. Mounting facilities are provided for using a second set of bottle gripper belts, allowing for added versatility.
The one-piece solid welded construction cabinet is epoxy painted for cleanliness and easy maintenance. Stainless steel machine leveling screws with floor pads ensure stability and easy setup. Moreover, all parts are modularized for quick replacement, minimizing downtime and reducing the need for extensive tools. Stainless steel bolts and fasteners are used throughout the machine, further enhancing its durability and longevity. Interlocking safety switches on the Lexan guarding enclosure ensure that the machine will not run unless the doors are securely closed, prioritizing operator safety.
Customizable Options for Enhanced Performance
Tailor the BA6 Over-Capper / Lidder to your specific requirements with our range of optional features. Choose from options such as a stainless steel frame and cabinet for added durability and aesthetic appeal. You can also opt for nickel or chrome plating on visible painted surfaces above the conveyor, adding a touch of elegance to your machine. Other available options include motorized capper head height adjustment, Mini-L stainless steel low-profile hopper/elevator, stainless steel bulk elevator, conveyor extensions, and (IQ-OQ) complete installation and operational qualification protocol documentation. Customize your machine to achieve optimal performance and efficiency.
Compact & Space Efficient
The BA6 Cap Over-Capper / Lidder operates on a 220V, 3Ph 50/60Hz power supply (NEMA 12). It requires an air supply of 2 to 4 cubic ft/min. The base machine dimensions are 38", making it compact and space-efficient. When crated, the machine measures 8' L x 4' W x 6' 8" H and weighs 1500 lbs.
With the Model BA6 Portable Over-Capper / Lidder, Kaps-All Packaging Systems offers you a high-quality solution for over capping and lidding applications. Experience enhanced efficiency, reliability, and flexibility in your packaging processes by investing in the BA6.
Ideal For:
- Caps of all materials from 8mm-70mm.
- Vials up to 2-1/2 gallon containers
- Speeds up to 200 bottles/minute
Air-Electrical:
- 220V, 3Ph 50/60Hz (NEMA 12)
- Air 2 to 4 cubic ft/min
Size:
- Base Machine Dimension: 38"
- Crated Dimension: 8' L x 4' W x 6' 8" H
- Crated Weight 1500lbs