FA6 Portable 6 Spindle Cap Tightener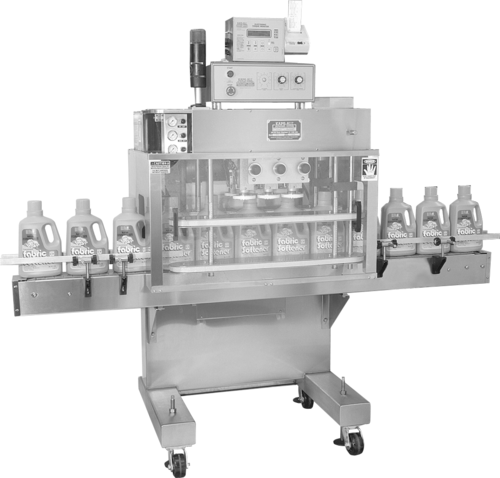 Kaps-All Packaging Systems: FA6 Portable 6 Spindle Cap Tightener
Welcome to the product page for our FA6 Portable 6 Spindle Cap Tightener and Retorquer, an industry-leading solution for your cap tightening needs. This machine offers seamless integration into your production line and portability that ensures operational versatility. The FA6 is a fully automatic cap tightening and retorqueing machine that is designed to achieve speeds up to 300 BPM, while requiring only 38" of line space.
Exceptional Design and Versatility
Our FA6 model is an optimal choice for Pump and Trigger Cap Tightening, as well as Retorqueing after heat induction sealing. Despite its compact size, the FA6 can easily handle a wide range of containers, including metal, glass, or plastic ones. Whether it's small vials or containers as large as 2-1/2 gallons, our machine can handle it. The portability of the FA6 ensures that it can be conveniently moved from one production line to another, providing the flexibility your operation requires.
Superior Features for Improved Efficiency
The FA6 Cap Tightener comes equipped with a wealth of standard features that enhance its performance. From the stainless steel 7'6" conveyor frame with a DC variable speed drive, to its capability to handle cap diameters from 8mm to 120mm, every aspect of the FA6 is designed to provide operational efficiency. This machine eliminates the need for changeover parts for various standard caps and container shapes, making it a truly versatile addition to your production line. It's all made easy with calibrated settings that allow for repeatability during changeovers.
The FA6 stands apart with its heavy-duty, patented, adjustable torque clutches. This feature ensures consistent torque and minimal wear on cap tightening discs, making it a reliable workhorse in your packaging system. To top it all off, the FA6 comes with a two-year full guarantee on all parts.
Enhanced Usability and Maintenance
The FA6 is designed for ease of use and maintenance. With its stainless steel machine leveling screws, floor pads, and modularized parts, the machine can be quickly replaced and repaired with little to no tools required. Plus, the machine is portable on four swivel wheels, allowing for easy maneuvering across your production facility.
Customizable Options for Your Unique Needs
To better suit your specific needs, we offer a range of options for the FA6 Cap Tightener. These options include a stainless steel frame and cabinet table top plate, motorized capper head height adjustment, and electronic torque sensor with circuitry to record torques. These additional features can further enhance the machine's performance and ease of use.
Power and Size Specifications
The FA6 Portable 6 Spindle Cap Tightener operates on a 110V 1Ph 50/60Hz (NEMA 12) power supply and requires minimal air for the pneumatic clutch option. The base machine dimension stands at a compact 32", with a crated dimension of 8' L x 4' W x 6' 8" H and a crated weight of 850lbs.
For a machine that delivers speed, versatility, and efficiency, consider the FA6 Portable 6 Spindle Cap Tightener and Retorquer from Kaps-All Packaging Systems.
Features:
THE MODEL "FA6" SEMI-AUTOMATIC CAPPER COMES EQUIPPED WITH THE FOLLOWING STANDARD FEATURES AT NO CHARGE:
Two full-year guarantee on all parts.
Stainless steel 7'6" conveyor frame DC variable speed drive with a 4 1/2" wide Delrin chain with stainless steel pins, stainless steel drive and idler shafts with patented reinforced nylon and stainless steel conveyor rail posts, stainless steel conveyor end guards and non-corrosive drive and idler conveyor top chain sprockets (left to right travel standard). Note: (Machine also can be purchased without conveyor).
Stainless steel enclosure with Lexan doors on front and back enclosing spindle and gripper section down to conveyor.
Can handle cap diameter from 8mm to 120mm standard flat caps and vials to 2-1/2 gallon containers.
Patented design eliminates need for changeover parts for a wide range of standard caps, container shapes and sizes.
Calibrated settings allow for ease and repeatability of changeovers.
Stainless steel guarding of upper drive section.
One pair of stainless steel bottle gripper belt housings complete with belts and drives.
All stainless steel bottle gripper belt and spindle shafting.
Heavy duty patented multiple disc adjustable torque clutches which will give a consistent torque and minimize wear on cap tightening discs (three pairs).
All electronically controlled variable speed drives for ease of adjustments.
All Nema 12 electrical components.
Portable on four swivel wheels for easy maneuvering.
Mounting facilities provided for using a second set of bottle gripper belts.
One-piece solid welded construction cabinet epoxy painted for both cleanliness and easy maintenance.
Stainless steel machine leveling screws with floor pads.
All parts modularized for quick replacement. Little to no tools required.
All stainless steel bolts and fasteners throughout.
Ideal For:
- Ideal for Pump & Trigger Cap Tightening and
- Retourquing after heat induction sealing.
- Vials up to 2-1/2 gallon containers
- Speeds up to 300 bottles/minute
Air-Electrical:
-110V 1Ph 50/60Hz (NEMA 12)
- Minimal Air required for pneumatic clutch option.
Size:
- Base Machine Dimension: 32"
- Crated Dimension: 8' L x 4' W x 6' 8" H
- Crated Weight: 850lbs.