P-700 HAND CAPPER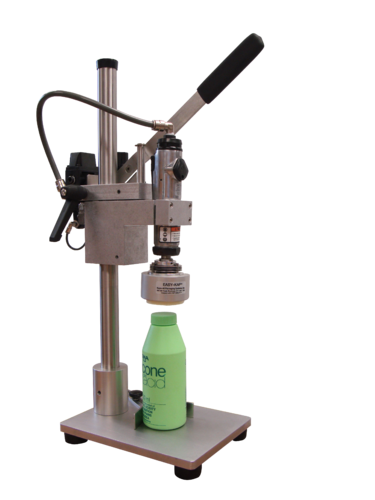 Model P-700
Speeds Up To 40 BPM*
Hand Held Capper. Semi-automatic capper is ideal for in box cappings, short runs and research and development. Comes complete with balanced mounting suspension system and anti-torque arm to minimize operator fatigue. Tightening torques up to 40 Lb.-in. Chuck sizes available to handle a wide range of cap sizes. The only unit available with the exclusive Kaps-All® patented adjustable Dial-A-Torque® clutch system. In stock and available for fast delivery.
Features:
THE MODEL "P-700" HAND CAPPER COMES EQUIPPED WITH THE FOLLOWING STANDARD FEATURES AT NO CHARGE:
Units come complete with one chuck, one patented adjustable clutch, one clutch adjusting tool and one cap driver balancer.
Includes filter-regulator, lubricator, and all tubings and fittings needed for immediate operation.
One chuck and chuck insert can handle a range of cap diameters.
Both models are capable of tightening screw and lug caps of all materials from 15mm diameter and up.
Model P-700-R can be used as a de-Capper to remove caps from containers for re-work and also reapplying them.
Requires little or no floor or bench space.
Unlike other units on the market, a consistent torque and minimal wear on chuck inserts can be expected with the fully adjustable,exclusive torque mechanism.
The need to rely on air flow for desired torque is eliminated.
Both models are suitable for hazardous location environments.
Push to start lever and automatic stop feature simplifies operator use.
Full one-year guarantee on power drive unit and clutch.
Ideal For:
• Ideal for both in-case capping, and on-line capping and R&D
Air-Electrical:
-No Electric Needed
- Air: 16 cubic ft/min continuously; 80psi.
Size:
- Base Machine Weight: 3.3lbs
- Dimension: 12" L x 3" W
Use your mouse to click and drag left or right.
Disclaimer: Machines shown in videos and photos may contain optional accessories.