LF-40 Combination Wrap / Panel Labeler.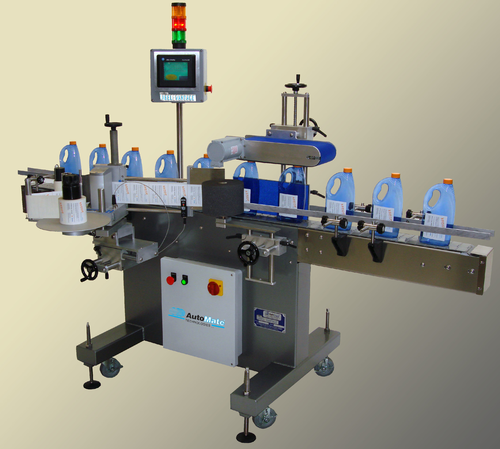 Model LF-40
Combination Wrap / Panel Labeler. Speeds Up To 40 Meters of labels per minute (up to 175bpm)*
LABEL-VANTAGE
Automatic Combination Wrap and Panel Product Labeling System
Model LF-40 is a Pressure Sensitive Panel Labeler for Round, Flat Sided and Oval Bottles. Labeling Speeds of up to 40meters/ 1,500inches per minute. The labeling applicator adjusts on 5 axes. European design. User friendly controls and a large color touch screen make changeovers easy and quick.
The Model LF-40 comes complete with the following standard features (See bulletin #A1008):
European designed field proven label applicators:
Variable speed servo drive motor.
Standard label reel diameter up to 300mm/12" with 76mm/3" core diameter.
Can accept a web width of up to 4.5" – Larger Available.
Labeling speed: Up to 40 meters per minute/1,500 in. per minute with independently driven reel holder.
Proprietary full 5 axis adjustment of applicator head.
Unwind unit gives constant web tension.
Dual label press wheels for front and back straight sided bottles.
Heavy Duty Design:
One piece welded uni-frame (Patented Design) for 24-hour/7-Day operation.
Portable epoxy coated steel compact base frame with stainless steel leveling screws with floor pads.
Oversize stainless steel shafting with calibrated settings throughout.
9' 8" long synchronized variable speed conveyor with Stainless Steel infeed and discharge conveyor sections (Longer lengths and custom layouts available).
Controls:
Clearly laid out operating display for safe and easy use.
Color TFT touch screen control system with rotating support for front and rear operation.
Label counter down with operator alerts (precisely counts the number of labels dispensed by applicator).
Photo-electric non-contact label and bottle detectors.
Menu driven microprocessor control with over 250 alpha-numeric recipe capacity.
Ideal For:
• Flat Sided and Oval Container Labeling
High Speed Applications
Air-Electrical:
110V, 1 Phase, 50/60 Hertz (Nema 12). No air needed on standard machine (unless coders/rejectors, etc. are used) (Approximately 6.0 amps).
Size:
- Crated Machine Weight: 1500lbs
- Dimension: 9'x6'x6'8"