BK-4 Belt Capper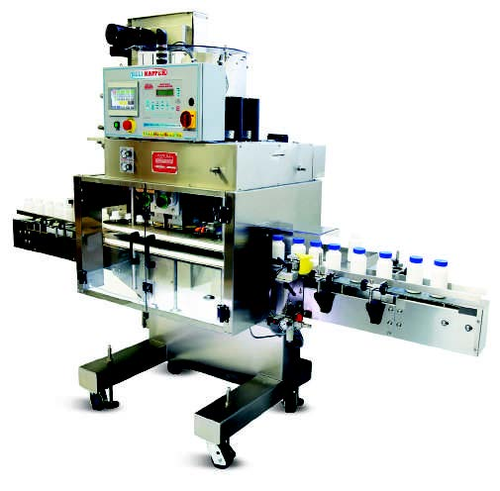 The BK-4 Belt Capper: Pharmaceutical Capping at its Best
Kaps-All Packaging Systems proudly introduces the BK-4 Belt Capper, an innovative solution designed specifically for the pharmaceutical industry. This unique 4-belt capping machine breaks traditional norms, replacing standard discs with belts for optimal cap tightening. With its innovative design and high efficiency, the BK-4 Belt Capper is the perfect choice for businesses looking for superior functionality and reliability in their packaging solutions.
Impressive Handling and Speed
The BK-4 Belt Capper is a remarkably versatile machine, capable of handling everything from vials to gallon containers. This flexibility makes it an exceptional solution for a wide range of packaging needs. What sets this machine apart is its impressive speed, which can reach up to 200 units per minute. This high throughput ensures that your packaging lines run smoothly and efficiently, regardless of the volume of orders you're dealing with.
Precise Capping and Exceptional Features
When it comes to capping, precision is paramount. The BK-4 Belt Capper delivers impeccably with a capping range for 13-70mm closures, offering excellent adaptability for your varying packaging requirements.
In addition to its precise capping capabilities, the machine boasts an array of standout features that make it a valuable asset in any packaging line. It comes with an integral hopper level sensor and an air pressure sensor to ensure optimal operation. The motorized head height and easy-adjust screw-type grippers allow for swift changes in production lines.
State-of-the-art Technology
Equipped with a linear encoder, the BK-4 Belt Capper simplifies machine height setup, ensuring user-friendly operation. Its pneumatic clutch assemblies and two sets of gripper belt assemblies facilitate smooth and efficient operation, keeping your lines running seamlessly.
At the heart of the BK-4 Belt Capper is a color HMI control system that enhances operational control. This system allows for recipe storage, alerts, recorded event history, password protection, and multilingual functionality. These advanced features offer easier control functionality, I/O monitoring, and more, creating a user-friendly experience for operators.
Built-in Quality Assurance
The BK-4 Belt Capper is not only a high-performance machine but also a proactive quality control mechanism. It comes with built-in inspection and rejection capabilities for a number of potential issues, including torque monitoring, missing caps, skewed caps, and missing foils. This integral quality assurance mechanism ensures that your products meet the highest standards before they leave your facility.
Robust and Reliable Design
Crafted with a stainless steel base, the BK-4 Belt Capper ensures durability and longevity, even in demanding industrial environments. Its robust design and reliable performance make it a trusted choice for pharmaceutical packaging applications.
Join the growing number of businesses benefiting from the efficiency, reliability, and precision of the BK-4 Belt Capper. Contact Kaps-All Packaging Systems today to find out how our solutions can enhance your packaging lines.
• Handles Vials to Gallon Containers
• Speeds up to 200 Units/Minute
• Capping for 13-70mm Closures
• Integral Hopper Level Sensor
• Air Pressure Sensor
• Motorized Head Height
• S.S Base
• Easy-Adjust Screw-Type grippers
• Linear Encoder for Easy Machine Height setup
• Pneumatic Clutch Assemblies
• Two Sets of Gripper Belt Assemblies
• Color HMI Controls Allowing For:
Recipes
Alerts
Recorded Event History
Password Protection
Multiple Languages
Easier Control Functionality
I/O Monitoring
And More
• Built in Inspection and Rejection For:
Torque Monitoring
Missing Cap
Skewed Cap
Missing Foil