AM-50/75 Benchtop Induction Sealer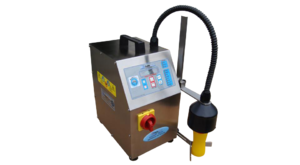 Model AM-50/75
Semi-Automatic Induction Sealing Machine
Bench Top Induction Sealer
AutoMate AM-50/75 semi automatic induction sealers are the right choice for research and development and small volume runs. With two models available producing 500 or 750 Watts of power the units produces a strong field in a very compact package. The AM-50/75 can accomodate caps from 5mm up to 100mm in diameter.
Hand Sealer Features:
Compact size for easy portability
Main power safety switch with lock-to disconnect
Has integrated interlocking guards for safety with automatic shut-off
All stainless steel heavy duty construction cabinetry (not plastic)
Easy to use soft touch key pad with display screen shows:
Power level displayed in percentage of full scale
Sealing time in 0.1 second increments
Batch count and batch preset * Total number of bottles sealed
Operator programmed recipes and menus allow quick/easy adjustments between applications
Screen displayed in 3 languages (English-Spanish-French)
Missing foil detector with audible and visual alarms (can be operator activated and deactivated).
Touch button calibration mode to set the sealer accurately to your exact line voltage
Sealer can operate 125V, 1 Phase or 240 V, 1 Phase (Factory set)
One specially designed proprietary sealing head accommodates up to 100mm caps (no need to purchase extra sealing heads). No sealing head cores to buy.
Sealed and gasketed enclosure to protect solid state electronics from outside environment (such as dust and humidity)
LED display screen with touch buttons for easy use (no old style thumb wheels or dials.
Visual and audible signals tell when bottle is done sealing. Time counts down in 0.1 second increments on digital display
Available as 500 watt or 750 watt model
Patented stainless steel tool-less sealing head height adjustment with incremental scale for accurate set-up and repeatability. Eliminates the need to hold the sealing head. Sealing head is automatically supported parallel to the cap to provide the optimum seal.
Automatic photoelectric switch under sealing head eliminates the need for finger switches and foot pedals to start sealing cycle
.Stainless steel "V" stop centering guide for positive bottle placement under sealing head
Advanced state of the art microprocessor controlled circuitry delivers high efficiency sealing power and long term reliability. Hands-free design ensures accurate fast, reliable sealing and eliminates operator fatigue.
……SIMPLY STATED, THIS IS THE BEST, MOST ADVANCED HANDS-FREE SEALER AVAILABLE!!
This foil sealer is ideal for:
AutoMate AM-75 semi-automatic induction sealer is the right choice for research and development and small volume runs
Air-Electrical:
or
115V, 1 Phase, 60 Hz. (standard)
Size:
Boxed Induction Sealer Machine Weight: 65lbs
Shipping Measurements 30"x24"x35"
Use your mouse to click and drag left or right.
Disclaimer: Machines shown in videos and photos may contain optional accessories.