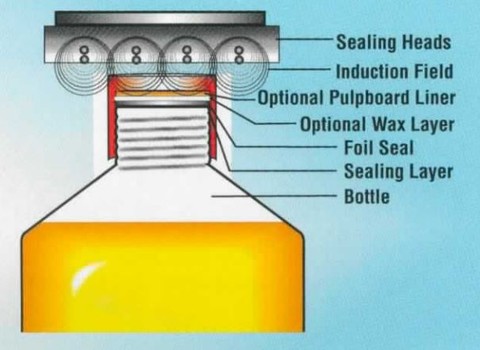 How the Smart-Seal Works for our Induction Cap Sealers
Utilizing the caps pressure on the liner under the cap, the AutoMate Model AM-100, AM-250 and AM-500 heat the foil seal and sealing layer utilizing an electro-magnetic field through the cap. This method will heat the foil seal and also melt the optional wax layer and allow the polymer film and foil seal to be fused to the container.
This will give a tamper evident hermetic seal when the cap is removed. This process is extremely efficient and fast. The electro-magnetic field produces no heat itself and therefore does not interfere with the product. Sealing rates using this process can be in excess of 40+ bottles per minute for the Semi-Automatic Sealers and 500+ Bottles per minute for the Automatic Sealers.
Browse our selection of induction cap sealers.